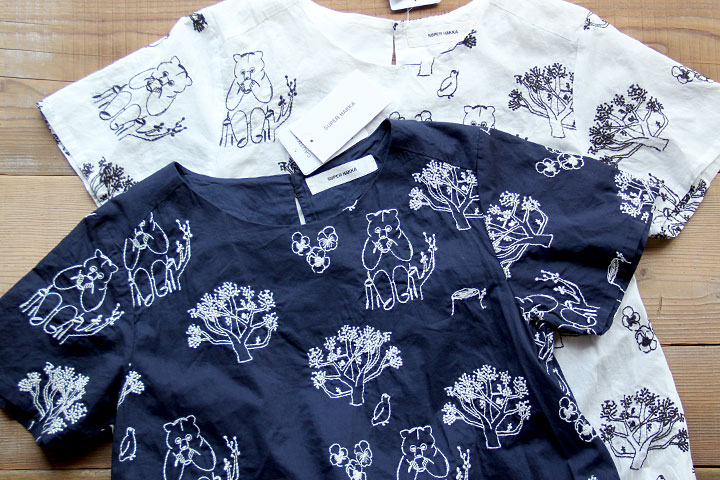 ファッションブランド「SUPER HAKKA」さんと コラボ服を作りました。
コラボしたのは、ワンピース、ブラウス、ニット、チュニック、Tシャツ、ノベルティアイテム。
刺繍がされていたりと、凝っていて贅沢で、実物は本当にかわいいのです。
今月号の雑誌「リンネル」にも掲載していただいています。
期間限定で、京都伊勢丹さんで山鳩舎ポストカードも並んでいます。
ぜひ店頭で手にとって見てください。
We made collaboration clothes with SUPER HAKKA (Japanese apparel brand).
"HAKKA" means "白花 (white flowers)" in Japanese language.
Things we made are dresses, blouses, knits, tunics, t-shirts, and novelty items.
They go on sale at stores throughout Japan.
Clothes embroidered with bears and doves, it is really cute and tasteful.
They were published in Japanese fashion magazine "Liniere".
Yamabato paper works also go on sale in Isetan Department Store Kyoto for a limited time. Please pick up and take a look at a store.
〇 Hakka onlineshop
〇 HAKKA ZOZOTOWN
〇 プレスブログ
〇 twitter
〇 Facebook